Latest news
21 / 11 / 2019
Strengthening relations with development industry
08 / 10 / 2019
Trialing MBT Affordability
01 / 10 / 2019
A team of colleagues took part in the annual MK Autumn Run.
See all news
02 / 08 / 2019
Connells Group demonstrates market leadership
Most successful UK estate agency business
Connells Group today releases details which confirm its position as the market leading estate agency business in the UK.
To support its standing as the most successful agent, Connells Group is:
the most profitable estate agent, having made £26.2m pre-tax profits in the first half of 2019 (£56.9m in the full year of 2018);
sold 66,000 properties in 2018 - more than any other estate agent;
has the largest share of new instructions in 2019, having tracked competitor activity on Rightmove (as illustrated in the graph below), with the gap between itself and most of its key competitors widening over recent weeks.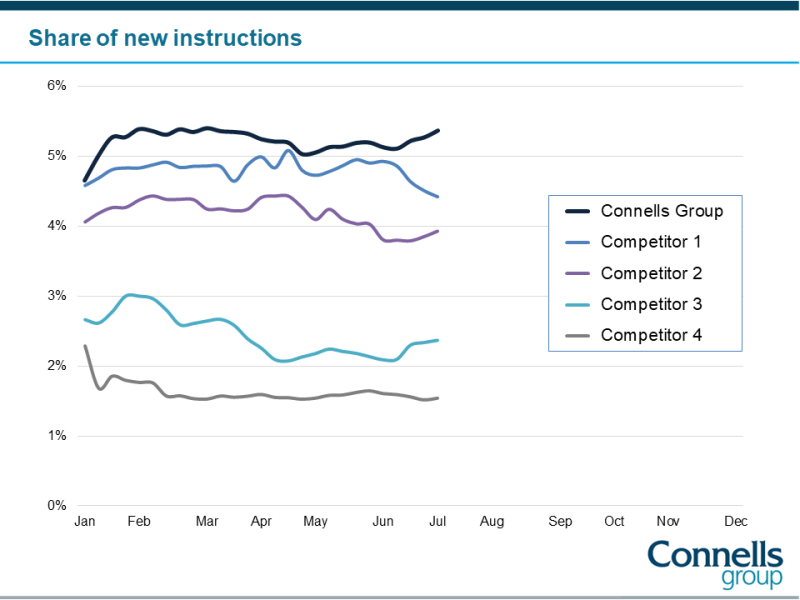 Connells Group Estate Agency Chief Executive David Plumtree says, "By combining traditional high street estate agency with the best people in the industry and the latest digital technologies, we are delivering both a great service to our customers and an environment for our branch teams to stand out from their competitors. Our clear and sustained market leadership shows that this is what the customer values."
For further information on Connells Group visit www.connellsgroup.co.uk
- ends –