Survey and Valuation
Connells Survey & Valuation Ltd is a leading surveying and valuation panel management company with over 26 years' experience and nationwide coverage provided through its own employed workforce. With a team of over 450 specialist staff including RICS qualified Chartered Surveyors providing reports and advice 'on the ground', as well as a contracted panel of tightly managed partner valuation firms, we have significant expertise in the provision of surveying services to the UK lending market.

Since 2012, Connells has managed in excess of 1.4 million transactions across the residential and buy-to-let markets. The business has held Quality Assurance accreditation for over 22 years and is ISO 9001:2015 approved underlining our commitment to put our clients and customers first.

At Connells Survey & Valuation, we demonstrate our commitment to market leading service delivery through all aspects of our processes. Clear and measurable targets are set for each service offered with escalation processes to deal with more complex business areas. Trained and professional staff act in accordance with key performance indicators that meet and exceed client expectations. Our culture is one of continual improvement and this is achieved through working in partnership with clients to identify and respond to their evolving needs, sharing best practices, proactive communication and relationship management, ongoing training and professional development and investment in IT.

Our surveyors are supported by a team of administrative staff who ensure all customers, be they lenders or individuals, receive an extremely efficient service and a single point of contact throughout the process. Services include:
• Building Surveys
• Home Buyer Reports
• Property Valuations
• Drive-by Valuations
• Desktop Valuations
• Automated Valuation Model (AVMs)
• Audit/Portfolio Valuations
• Residential EPCs
• New Build EPCs
• Commercial EPCs
• Scottish Home Reports
• Audit Checks
• Valuations for probate and matrimonial purposes
• Asset Valuations (for statutory and other requirements)
• Housing Act 'Right to Buy' valuations
• Retrospective Valuations for Litigation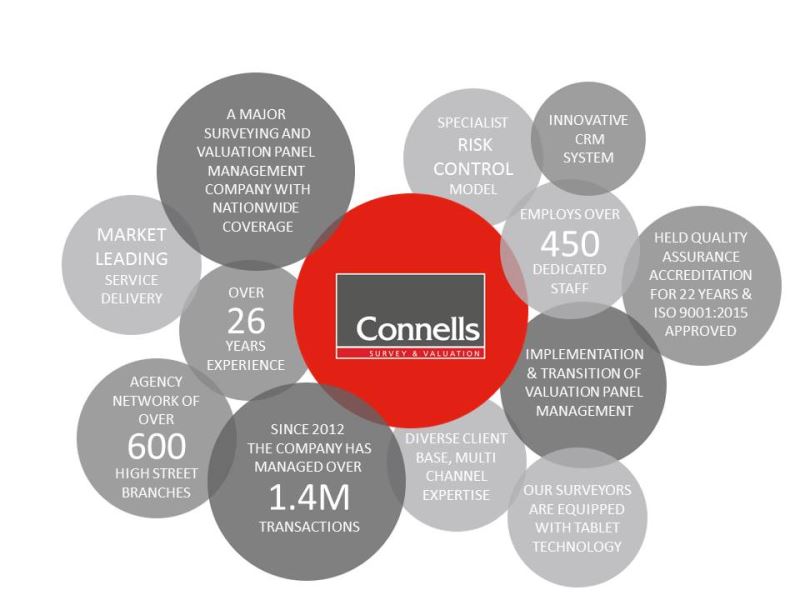 Connells Survey & Valuation is part of the
Connells Group
which is a fully owned subsidiary of the Skipton Building Society and one of the UK's largest estate agency, financial services and surveying groups. We, therefore benefit from all the financial strength and integrity that you would expect from a major financial services organisation.
Visit website
Connells Survey & Valuation has clients ranging from private vendors and landlords to corporate clients and housing associations. Its team of over 450 specialist staff including RICS qualified Chartered Surveyors as well as a national panel of surveying firms ensures it can always fulfil customer's survey requirements.